Are bad receptions, weak signals, and low quality pictures affecting your TV viewing? You don't have to tolerate such any longer. Our team of expert technicians will help you get the most suitable answers for such problems. Our DSTV repairs Stellenbosch experts possess the desired tools to establish the root of the problem you're facing and carry out a speedy repair service to ensure you enjoy your TV watching experience at the shortest time possible.
DSTV Decoder Repairs and Servicing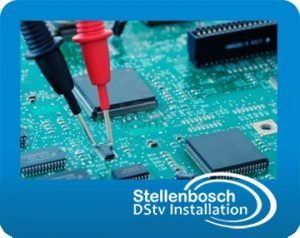 Uncertainty over what may be affecting your DSTV shouldn't be a frustrating thing anymore; make a single call to our call-out team in Stellenbosch and we'll be at your premises in no time. Our services are 24/7 and we have a same-day call out service. You can always book our services at your convenience if you prefer.
In some instances, our Stellenbosch DSTV team may like to establish the exact issue prior to reaching your residence and they would say the same on the phone. You'll thus be asked questions concerning the challenges you may be facing and within a short time, our technicians will have established the likely problem and arrived to deal with it. Never allow your digital TV to perform below its full potential when you have professionals located within your vicinity- contact our Stellenbosch DSTV decoder repair and maintenance service today!
Dish Repairs & MAINTENANCE SERVICES
The root cause of your poor signal reception may as well have something to do with a faulty dish. If so, our team of repair technicians will offer expert advice on the next step to take. Our familiarity is not only limited to repairing satellite dishes all over Stellenbosch, but are also knowledgeable when it comes to the best places to purchase original and quality parts and friendly costs.
Antenna and Aerial Repairs
An antenna may appear like a simple DIY, nevertheless, with lack of appropriate knowledge on how to actualize the same, damaging it in totality is a possibility. Whenever you feel like your aerial is not operating 100%, make a point to contact our professional Stellenbosch-based repairmen who have the knowledge and technical capability to address any antenna problem you might be having. As well decoder servicing we are experienced dish alignment experts.
For all your enquiries on DSTV satellite repairs and related services, please call us on 087 551 0807 or you can alternatively opt to leave as a message, specifying the problem you might be facing, using the contact.